>_
DATAMONOLITH_AI
/ Architectural Data Sculpture Installation
~MORI MUSEUM TOKYO

~TIMES SQUARE_NY
~BARCELONA_LLUMBCN
~OXFORD STREET_LONDON

~LAS VEGAS

~DUBAI
---
>_
STATEMENT>

What would happen if the consciousness of the world's oldest ancient origins data and AI come together for hybrid architectural public art?

Ouchhh has created DATAMONOLITH using the world's oldest data! By using the Generative adversarial network (GAN) and Ai algorithms, we created a new Data Monolith which meant to learn from Gobeklitepe data (dating from Pre-Pottery Neolithic B, PPN; 9600–7000 calBC)
>_
STATEMENT.


"Encompassing both the Euphrates and Tigris rivers, the area gave birth to the first cities, states, bureaucracy and written communication in history. In other words, civilization originated in the Fertile Crescent. Göbeklitepe is not only a masterpiece that demanded enormous organization and imagination, and arguably the oldest temple in the world, it is the progenitor of the development of civilization in the world. Göbeklitepe is, in many ways, the epicenter of history. To date, the excavations at the Göbeklitepe have been extraordinarily productive. Artifacts unearthed there are paving the way to fresh, unexpected discoveries. The temples far surpass the architectural skill that would have been expected in an era of hunters and gatherers. As such, the excavations have created a sensation around the world. The temples, adorned with animist figurines reflecting the religious faith of prehistoric people, have made Göbeklitepe one of the most significant archaeological discoveries of recent times. approximately 7,000 years older than the UK's Stonehenge."

>_
AWARDS

2020_ASIA DESIGN PRIZE SEOUL _Gold Prize



---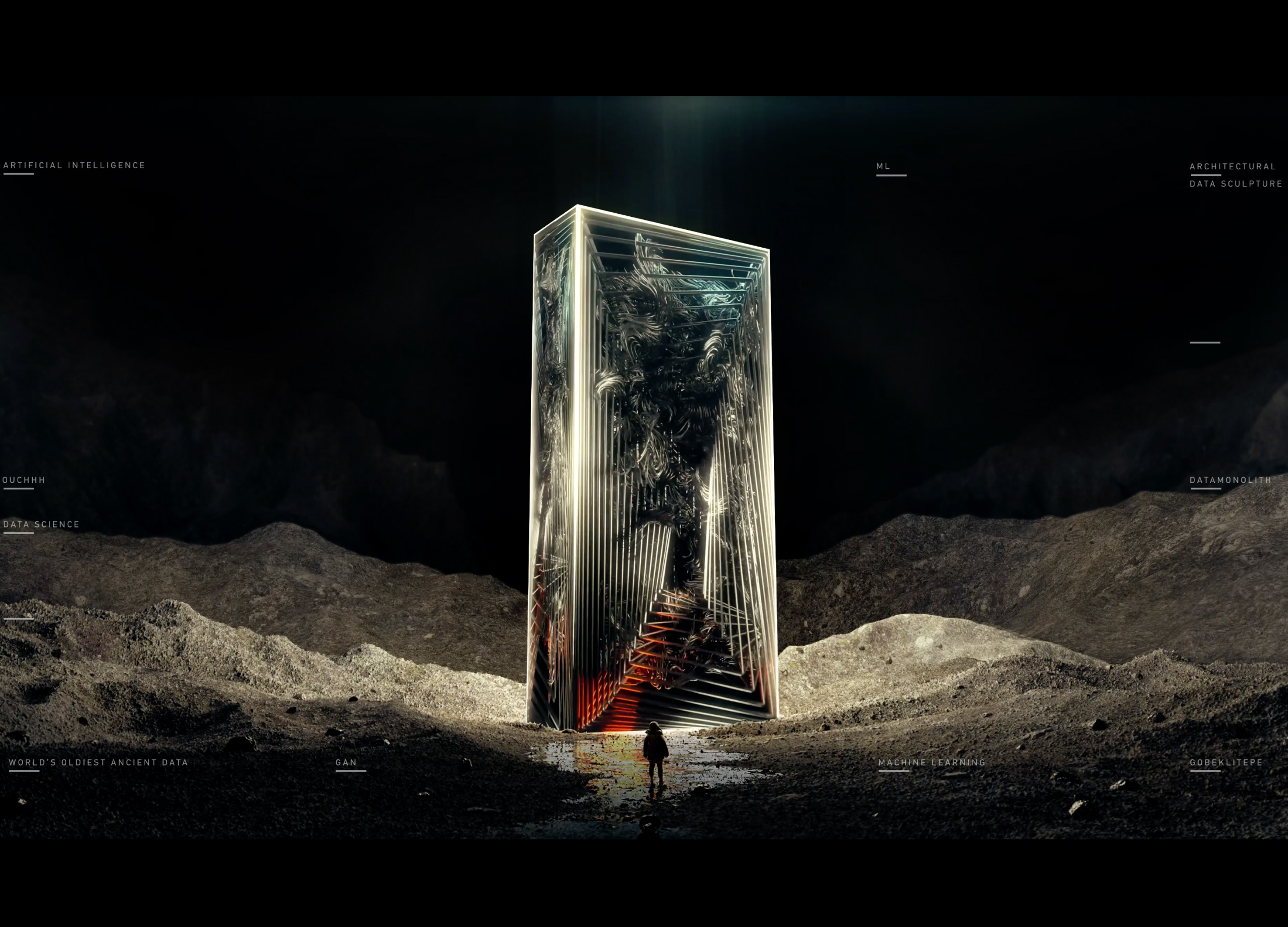 ---
~Process/Scientific Data Journey of AI DATAMONOLITH
AI SCIENTIFIC DATA SCULPTURE PROCESS
---
> 3 BILLIONS PIXEL TRAINING BY ARTIFICIAL MACHINE INTELLIGENCE.
---
>_

LAS VEGAS

SUPPORT BY INTEL AND AMAZON





---

>_
BARCELONA_LLUM LIGHT FEST.
---
>_
DUBAI_ICD BROOKFIELD
Collaboration with MASSIVart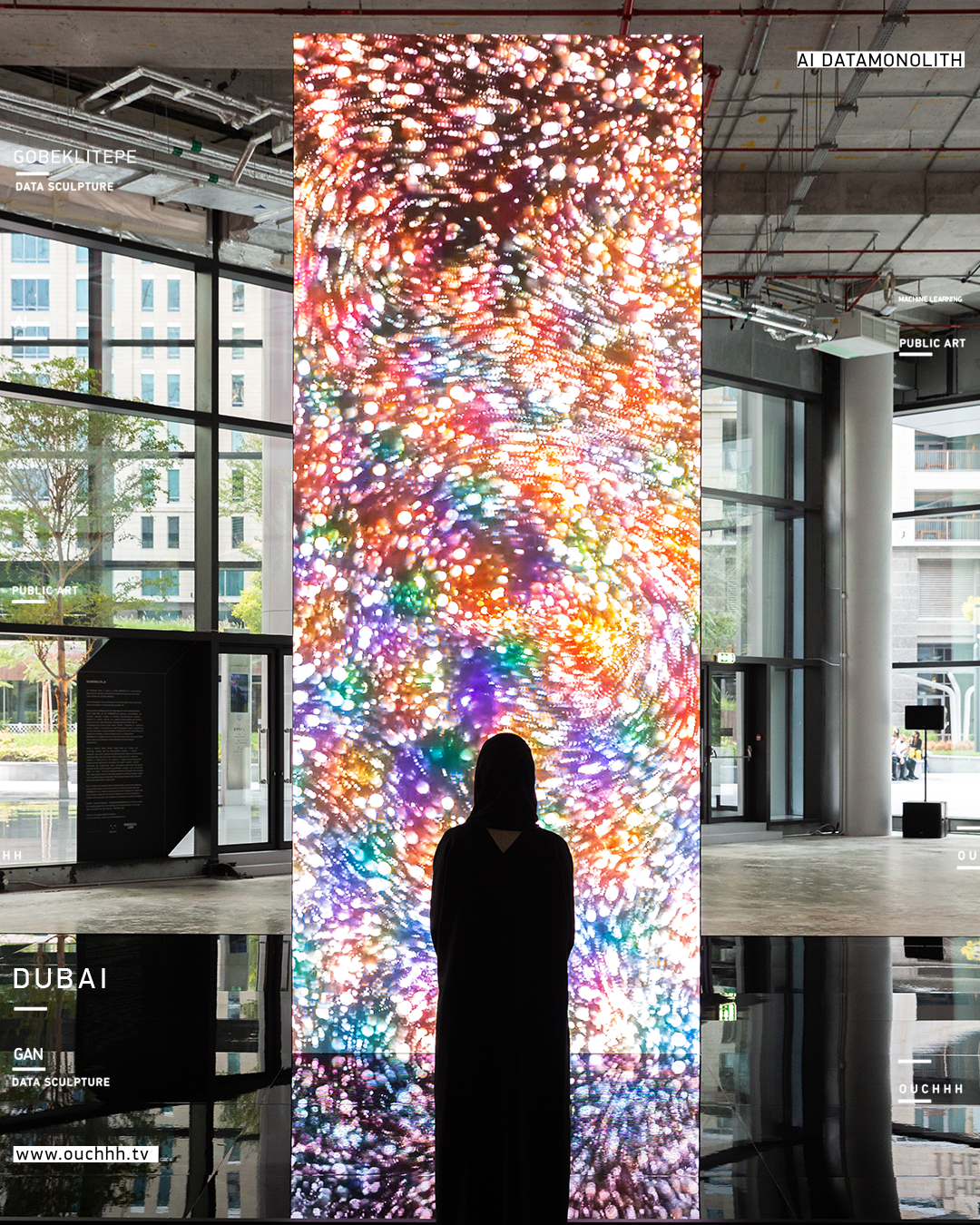 ---
>_
TOKYO_MORI MUSEUM
"Future and the Arts: AI, Robotics, Cities, Life – How Humanity Will Live Tomorrow"
---
>_
LONDON_OXFORD STREET
---
>_
TAIPEI
NUIT BLANCHE - DIGITAL ART CENTER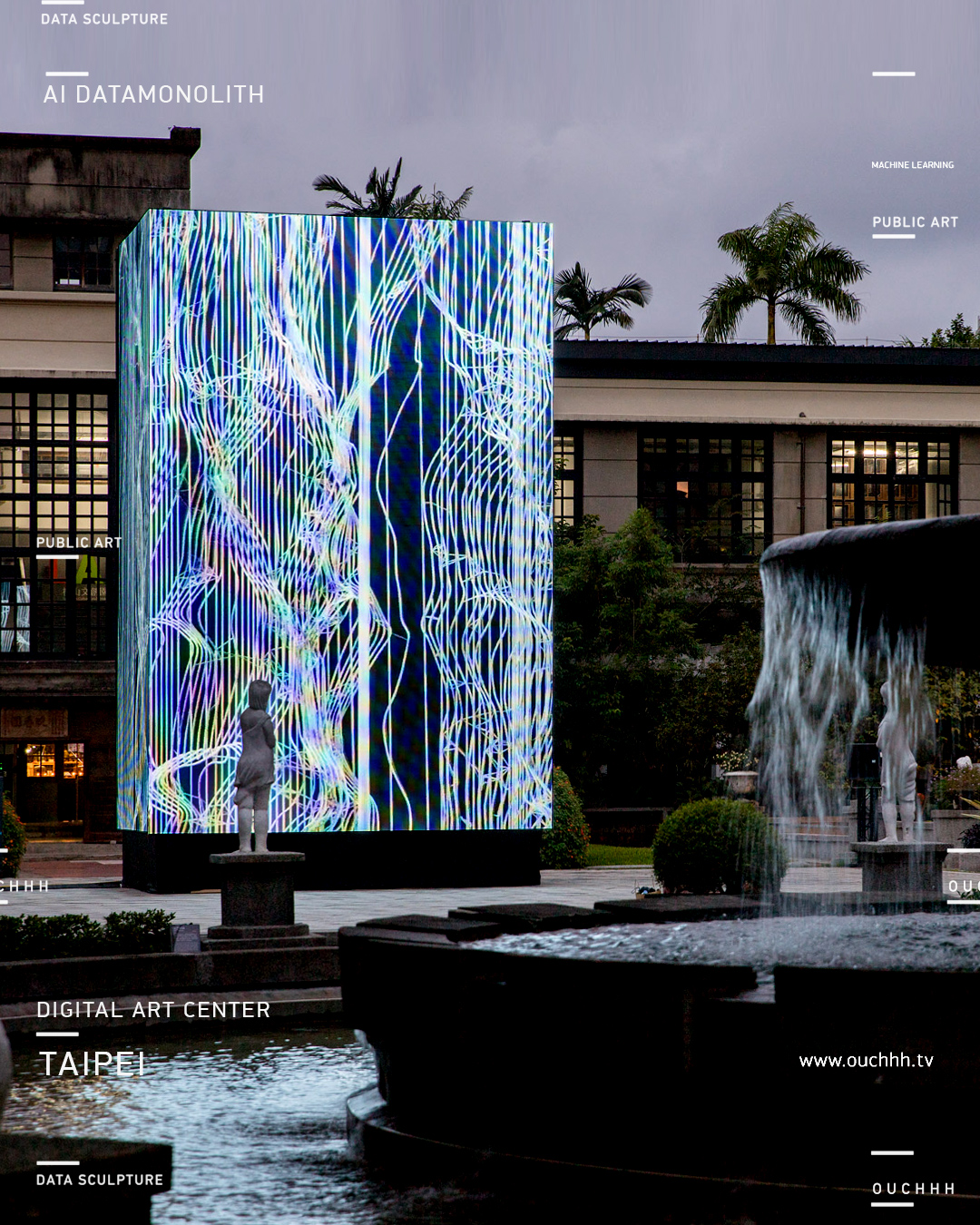 ---
>_
JAPAN/BAY CURRENT CONSULTING
BEYOND THE EDGE_AI DATAMONOLITH_TVC CAMPAIGN
Collaborated with COLORs CREATION