>_
AI MAZE / Real-Time Data Sculpture Installation
>_
STATEMENT

Ouchhh created the World's First AI MAZE DATA SCULPTURE & PAINTING.

For the first time in the world, we created a data sculpture that can be experienced with interior and exterior facades real-time generated by AI.

200,000 people experienced in just 19 days.

To participate in the "2023 Taiwan Lantern Festival in Taipei" and celebrate the 25th anniversary of PxMart Taiwan, OUCHHH was invited as a lead artist to co-produce "Portkey of the Maze_PX 25", the immense light landscape is a feast of eyes, soul, and exploration of the charm of Taipei City in age of Metaverse.


This installation, proposed by Taiwan local team with OUCHHH's monolith as the centerpiece, is the world's first outdoor immersive installation presented as a maze. The walls are constructed with LED panels, covering 1,110 m2 at the heart of Xinyi District in correspondence to Taipei 101.


>_


The abstract motion and composition of the ever-changing animation seen by the audience from the exterior are converted from various data sources with 5G connected with Taipei's big data center, including the city's instant population density in a 50X50 meter grid, MRT, bus ridership, Ubike rental rate, etc. Such extensive data inputs and the dimension of simultaneous delivery of real-time generating renders was a groundbreaking technical challenge and the largest real-time generating done by OUCHHH. As a second AI real time data input we used the live EEG data of the musician who performed in the grand opening. By taking the real time EEG data over OSC protocol to the system we created another interaction domain for the art piece.


The four-story high LED monolith in the maze's center is an installation that can be seen from the outside and has an accessible hidden infinity room beneath it. This is the first installation allowing people can simultaneously experience AI creation from inside and outside. Surrounding the monolith are ten iconic works from OUCHHH's past 13 years. By walking through the maze, every turn is a surprise, and every direction taken is a unique journey. In addition, a twelve-minute show - "Echoes of Four Seasons Life," is created to announce the first Four Seasons Hotel in Taiwan, set to open in 2025 at the venue right next to this installation site.

>_


It is OUCHHH's pleasure to celebrate the 2023 Chinese New Year with an estimated 200,000 audience during the 19 days Taiwan Lantern Festival in Taipei. Also, a great horner to be part of PxMart's 25th-year landmark and witness the birth of the first Four Seasons Hotel in Taiwan. OUCHHH would like to thank all the partners who made this A-Maze-ING project together; the Host - Chuan Lian Enterprise Co., Ltd., organizer - FREES, technical support - Moonshine Animation, local representative - MMPI, and nearly 300 crews involved through the concept, planning and built this mesmerizing instillation.

---
---
---
---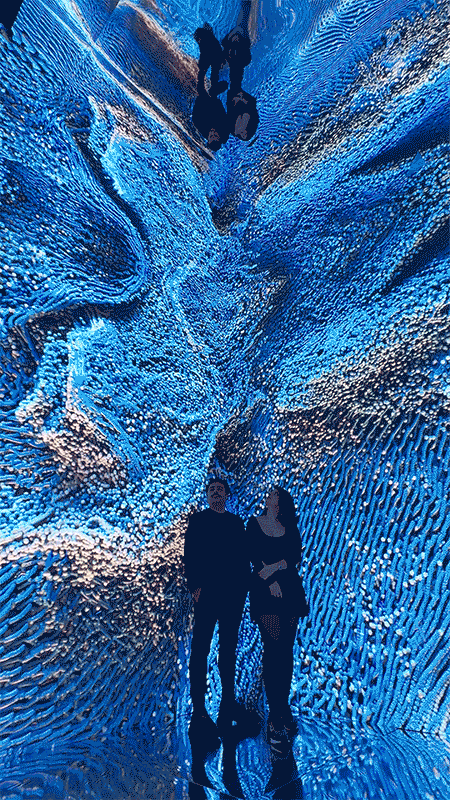 ---
,

---